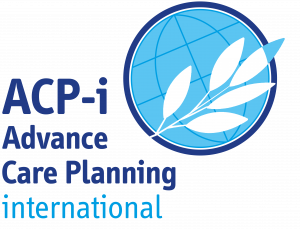 First German Congress on Advance Care Planning
Medical progress comes along with a multitude of treatment options, especially in the case of serious health crises or at the end of life. In the given situation, the sick person is often no longer capable to decide on his or her own treatment. Their wishes for medical treatment and support are often not or only insufficiently known.
This is why the concept of Advance Care Planning (ACP) has developed internationally as an option for planning ahead. The core of this concept is to have conversations between a qualified facilitator, the person concerned and possibly relatives in order to identify and document treatment wishes that are to be followed in the event of loss of capacity to consent.
With § 132g Social Code Book V, nursing homes and institutions providing care for handicapped people can now, for the first time, offer facilitated ACP-conversations covered by the sickness funds. The topic of Advance Care Planning has thus gained increasing importance in recent years in Germany and is now widely discussed—a success in part due to the inclusion of § 132g in the Social Code Book V.

In order to offer the opportunity for not only information on ACP, but also for an intensive exchange of diverse experiences to date, we cordially invite you to the First German Congress on Advance Care Planning from 5th to 6th March 2020 in Cologne.
The Congress is primarily aimed at a specialist audience, but is also open to all interested parties, in particular with the Citizens' Forum on March 4th 2020.
As a professional association, the DiV-BVP e.V. seeks to promote the implementation of ACP and § 132g SGB V on a qualitatively high level. Thus, the organization of this congress is a contribution toward reaching this goal.
We look forward to your participation and to welcome you in Cologne. You can find further information and the registration form under:
Join ACP-i as a member
You are invited you to become an Advance Care Planning international (ACP-i) member now. Details on benefits, fee and how to join:
7th Conference of the International Society of Advance Care Planning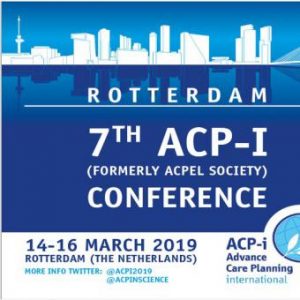 13th - 16th March 2019 in Rotterdam, Netherlands was a big success. More than 300 international attendees, great presentations, lots of interaction. Find more details on the congress website
After the conference is before the conference. See you in Singapore April 2021, upcoming information asap on this page!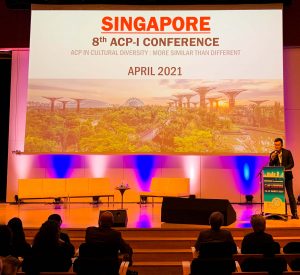 Welcome to The International Society of Advance Care Planning …
… and our new look website. The inspiration for the foundation of a new society dedicated to high quality advance care planning came from a meeting of like-minded individuals whose passion is to improve patient-centered care, led them to come together at the inaugural 2010 international conference held in Melbourne and then to reaffirm their commitment to advance care planning at subsequent conferences held in London, Chicago, Munich, back in Melbourne in 2013 and in Banff, Canada in 2017.
Now with over 1000 members from a multitude of countries the society is looking forward to its next conference.