Commitee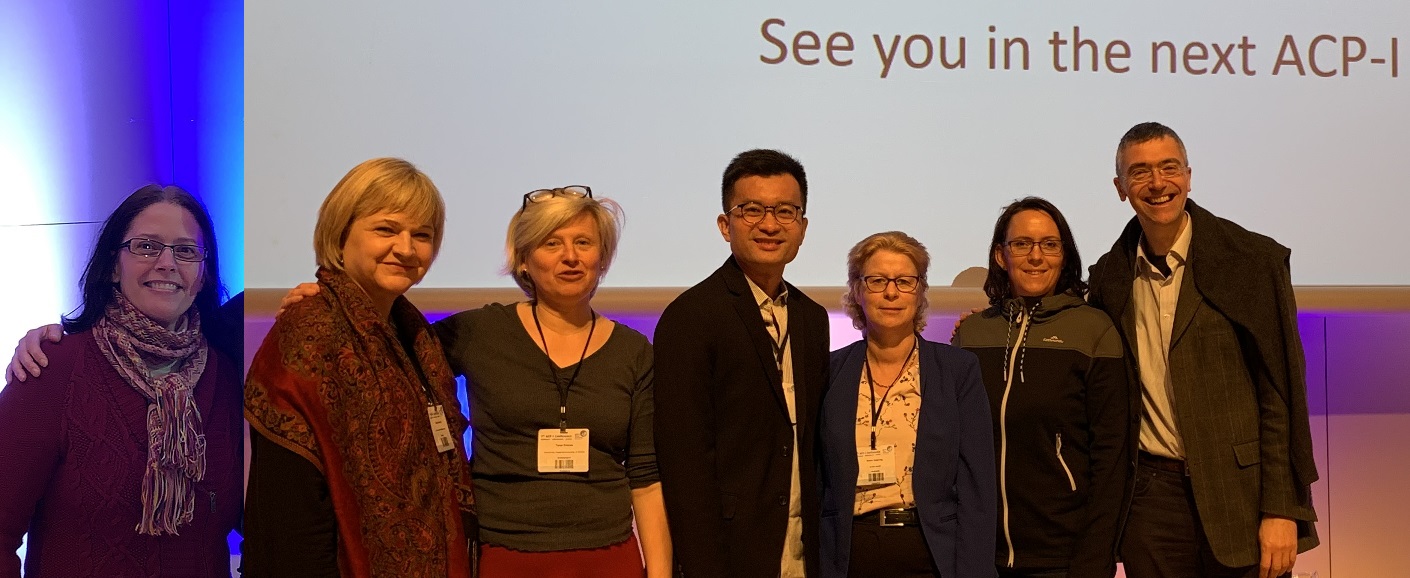 Stephanie Anderson, Doris Barwich, Tanja Krones, Raymond Ng, Karen Detering, Leigh Manson, Jürgen in der Schmitten
President elected
Prof. Dr. med. Dipl. Soz. Tanja Krones
Tanja Krones was educated as physician and sociologist at the University of Marburg (Germany). Inspired by her mentor Gerd Richter who worked with John Fletcher at the University of Virginia as clinical ethicists she conducted several research projects in the field of ethics and worked as co chair of the IRB and as clinical ethicist.
Since 2009, she serves as Head of the Clinical Ethics Unit at the University Hospital Zurich, associated with the Institute of Biomedical Ethics and History of Medicine at the University of Zurich.
During her work, she became aware of the problems of good  patient-centred car, when patients turn  incapable of decision-making. This led to her current main  research and practice interest of promoting Advance Care Planning in research and practice. She was the principle Investigator of the MAPS (Multiprofessional Advance Care Planning and Shared Decision Making ) – trial funded by the Swiss national science foundation, and is member of the German and Swiss national Task forces for implementing Advance Care Planning nationwide.
In 2012 she joined the former ACPEL society and has been selected as President of ACP-i in September 2017.
President of Honor
Dr. Bud Hammes
Gundersen Lutheran Medical Foundation, USA
Bernard "Bud" Hammes was educated at the University of Notre Dame, receiving his BA in 1972 and his PhD in philosophy in 1978. He has taught at the University of Gonzaga in Spokane, Washington and at the University of Wisconsin-La Crosse.
Since 1984, he has served as the Director of Medical Humanities and Respecting Choices® for the Gundersen Lutheran Medical Foundation and the Gundersen Lutheran Medical Center in La Crosse, Wisconsin. In this position he provides educational programs for house staff, medical students, nursing student and physician assistant students. He also provides in-services and workshops for the medical staff, nursing staff, social workers, and the pastoral care department. Dr. Hammes chairs both the Institutional Review Board and Ethics Committee. For the Institutional Ethics Committee he serves the role of ethics consultant.
Dr. Hammes is a Professor of Clinical Science at the University of Wisconsin-La Crosse and an Associate Adjunct Professor of the Institute for Health and Society at the Medical College of Wisconsin and a Clinical Assistant Professor in the Department of Pediatrics at the University of Wisconsin School of Medicine and Public Health.
Dr. Hammes' work has been primarily focused on improving care at the end-of-life. To this end he has developed institutional policies and practices, staff education, and patient/community education with a special focus on advance care planning. This work has resulted in two nationally recognized programs on advance care planning: If I Only Knew… and Respecting Choices®. He has authored or coauthored 40 articles and book chapters that are focused on clinical ethics, advance care planning, and end-of-life issues. Currently he serves as the Chair of the National POLST Paradigm Task Force.
For more information about Respecting Choices go to respectingchoices.org.
Vice President
Dr. Stephanie Anderson
Respecting Choices, a division of C-TAC Innovations
Dr Stephanie Anderson is the deputy executive director of Respecting Choices, a division of C-TAC Innovations. She is responsible for designing and leading strategy and operations including the delivery of this internationally recognized program. She has over 25 years of experience in palliative care and hospice, home care, case management, and emergency medicine. Dr. Anderson believes person-centered decision making based on an individual's goals and values truly transforms care and should be the top priority to delivering exceptional whole-person healthcare.
Treasurer
Kornelia Götze
Family Practitioner, palliative care specialist and research fellow at the dpt of General Practice, University Hospital of Düsseldorf, Germany
Kornelia Götze is a family practitioner and palliative care specialist working part-time in a ambulant specialised palliative care team in Marburg (Germany). She works part time as lecturer and researcher at the department of General Practice at the university hospital of Düsseldorf. In this function, she coordinates the multicentred research project BEVOR implementing a comprehensive regional ACP program in 4 different regions in 45 German nursing homes with a grant of the Innovationsfonds of the GBA (2019-2023), and she is committed to the training of ACP-facilitators and ACP-trainers and further regional implementation of ACP programs in Germany. She is the secretary of the German Interprofessional society of ACP (DiV-BVP).
ACP-i Commitee Secretary
Leigh Manson (B.Proc, LLB, MBA)
ACP National Programme Lead – Health Quality & Safety Commission, New Zealand
Leigh has a background in medical malpractice and third-party injury litigation, health sector business administration and quality improvement using a Lean Six Sigma methodology. Since 2010, she has been leading the development of ACP in New Zealand through various roles including facilitating the work of the National ACP Cooperative, the National ACP Training Programme, programme managing ACP for the Northern Region, and the ACP deployment at the Auckland District Health Board and participating in policy development as a member of the Ministry of Health ACP Guidelines advisory group and Health Quality & Safety Commission ACP Advisory Group.
She was elected to the ACP-I committee in 2015 at the conference in Munich and believes her background and experience bring a non-clinical and practical perspective to the commitee.
Dr. Jessica Simon
Professor and Division head for Palliative Medicine, Department of Oncology at the University of Calgary, Canada
She has been active in advance care planning since 2006, serving as a researcher, educator and in administrative positions. She co-led a program of advance care planning research in Alberta, Canada from 2013-19 (www.acpcrio.org). She volunteers on advisory boards for ACP Alberta and ACP Canada and also works as a Physician Consultant for Advance Care Planning and Goals of Care for Alberta Health Services, Calgary Zone.
Cari Borenko (BSW RSW MHS)
Lead, Advance Care Planning – Fraser Health Authority, British Columbia, Canada
Over the last two decades, Cari's unwavering upstream ACP vision has provided her the opportunity to support and influence local, provincial, national and international ACP programs. She is the founder and chair of the Canadian National ACP Community of Practice and an appointed member of the Canadian National ACP Task Group. She has co-created a variety of health care provider resources including clinical practice guidelines, policies and public resources which have been adapted in various organizations across the world. Cari has authored two chapters and completed a thesis exploring the impact of clinicians understanding of health law on ACP. She is extremely proud to be leading the largest ACP team in Canada, focusing on proactive systems level implementation.
Cari believes her collaborative spirit, systems-level upstream thinking will compliment the diverse Committee membership at ACP-i.
Cheng-Pei Lin
Assistant Professor in nursing at the Institute of Community Health Care,College of Nursing, National Yang Ming Chiao Tung University, Taipei, TAIWAN
Cheng-Pei is an oncology nurse and palliative care researcher, originally from Taiwan. He completed his PhD training in palliative care at Cicely Saunders Institute, King's College London, UK in 2020. Hisresearch focuses are on culture adaptation on advance care planning, medical decision-making and palliative care for cancer patients. He is now working as an assistant professor in nursing at the Institute of Community Health Care,College of Nursing, National Yang Ming Chiao Tung University, Taipei, TAIWAN.He has been involved in advance care planning research worldwide with experience in mixed-method research, qualitative interviews and engagement with low and middle income countries on global palliative care evaluation project funded by WHO. His recent works are two folds: first is to develop a definition and key elements of advance care planning among six Asian sectors (i.e. Taiwan,Japan, Hong Kong, Singapore, Korea and Indonesia) adopting Delphi consensus method. Second is to explore the awareness and perception of advance care planning among older people with chronic illness in the community in Taiwan though in-depth qualitative interviews with stakeholders.
Extended Comitee
For Australia

Craig Sinclair (PhD, BA/BSc)(PhD, BA/BSc)
Postdoctoral Fellow University of New South Wales, Australia

 
Craig is a postdoctoral health researcher with training in psychology. He has been actively engaged in advance care planning research in Australia since 2010, with experience in clinical trials, quality improvement initiatives, and engagement with culturally diverse communities in Australia. His recent work has focused on the emerging topic of supported decision-making, exploring its implications for human rights-based approaches to advance care planning, in particular among people with dementia and other age-related cognitive disabilities.
For Spanish-speaking countries
Europe

Cristina Lasmarius
Lead, Advance Care Planning Program, Catalan Institute of Oncology
Cristina is Graduated in Nursing, Graduated in Humanities, Master's Degree in Palliative Care from the University of Vic / Institut Català d'Oncologia and PhD candidate into the Doctoral Program in Health and Social Sciences of the University of Vic- Central University of Catalonia. For over her professional career, her area of interest has been palliative care. She was always concern about how to respect patients' autonomy at the end of life. She has clinical experience related to palliative care, teaching basic, intermediate and advanced training, and developing public palliative care programs. For many years, she worked as deputy director of the Chair of Palliative Care at the University of Vic, committed to promote knowledge and research in palliative models of care. In 2014 she was responsible to coordinate the Catalan Model of Advance Care Planning. She currently works in a monographic cancer institute, the Catalan Institute of Oncology, developing the Advance Care Planning program for cancer patients. She is the current vice president of the Catalan Palliative Care Society, and she is the founder of the Spanish Association of Advance Care Planning, being the current president since 2020. She has co-created different materials and resources about ACP, including the first ACP online course in two languages, Spanish and Catalan. She is passionate about the topics of Advance Care Planning and Palliative Care and is convinced that both are the best way to offer dignified care to ill people and their families and loved ones.
South America

Daniel Neves Forte  (MD, PhD)
Head, Palliative Care and Bioethics – Hospital Sírio-Libanês, Sao Paulo, Brazil.
Supervisor, Intensive Care Unit – Hospital das Clínicas- University of Sao Paulo, Brazil
For over a decade, Daniel has been leading initiatives related to person-centred care in the area of assistance to critically ill people and their families in Brazil. After founding in 2008 the first institutional team of Palliative Care (PC) in a hospital of excellence in Brazil, he promoted the expansion of PC, leading assistance, teaching and research initiatives in the area. He coordinates long-term specializations and short-term courses, having trained hundreds of attendings from across the country. In 2018, as president of the Brazilian Society of Palliative Care, he led discussions and collaborative work between institutions in Brazil, work that culminated in the publication of the Ministry of Health's first National Palliative Care Policy. Many of his former students are now leaders in the area, promoting not only PC integrated to the most diverse areas of knowledge, but mainly person-centered care throughout life and the healthcare system. More than a tool, Daniel firmly believes that advance care planning is an essential competency needed for providers to deliver minimal quality healthcare. Furthermore, Daniel sees the ACP as a pillar of citizenship, urgently needed if we are to live in pluralistic, solidary and respectful societies. For him, the promotion of autonomy and shared decision-making helps not only patients and their families, but also help providers to rediscover the most powerful purpose of their profession: connection.